My Review of "The Hunger Games" /// A Book to Film Conversation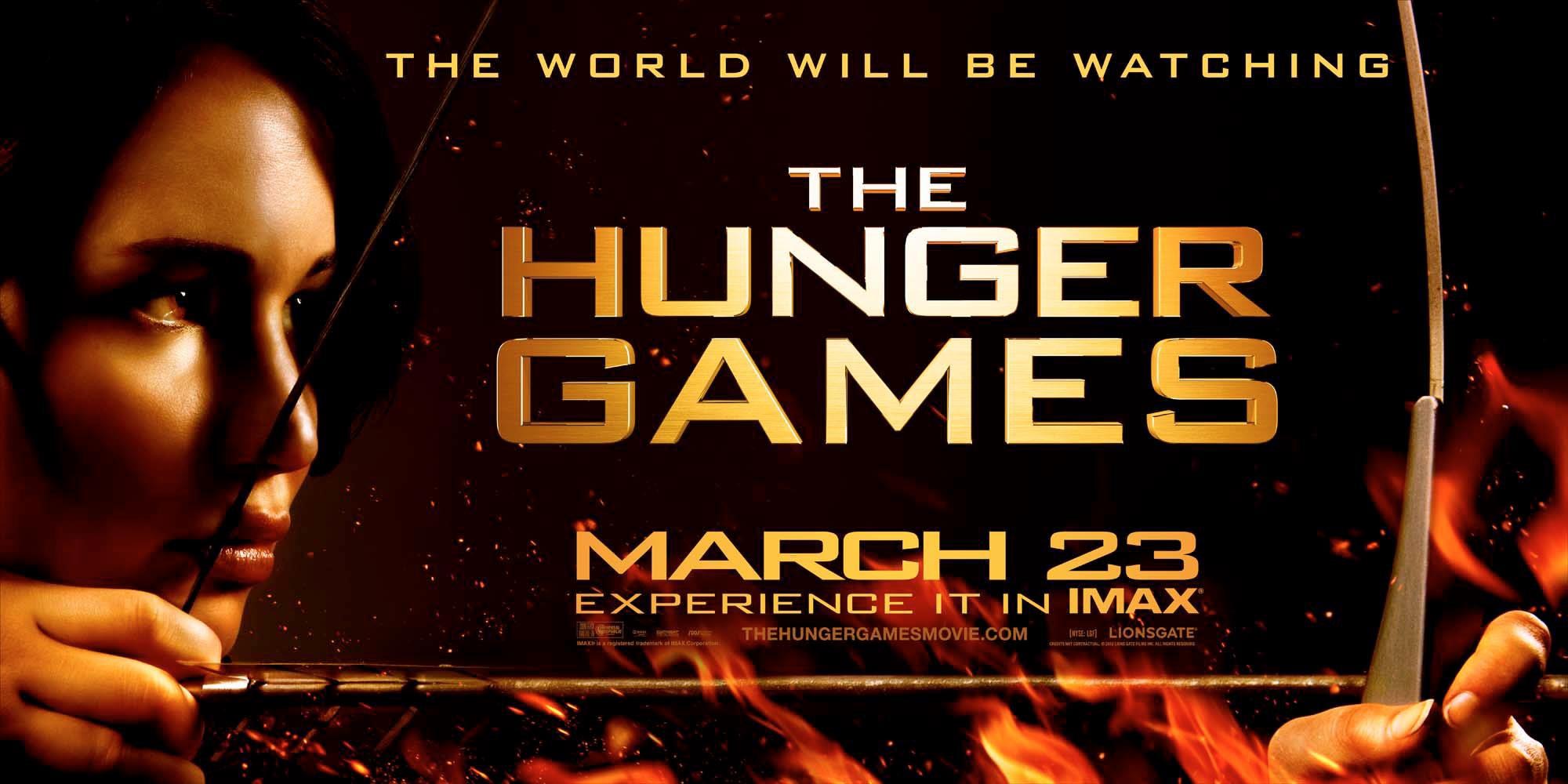 Let me preface by saying that Jennifer Lawrence was the perfect casting for the film's protagonist, Katniss Everdeen. I'm not sure if anyone else could've pulled off this character with as much "believeability" as Jennifer did. She's been on the map for a little while now, but I can only assume this cements her status as one of the brightest up and coming stars in Hollywood. Unfortunately, I can't say the same for Josh Hutcherson and his portrayal of Peeta Malark…if only because he's shorter than Jennifer and that was really a distraction…but also because he just didn't have the same charisma that the book's version of Peeta had.
Moving on….
This was literally the first time I have ever read the book version of a movie prior to seeing the movie. In fact, I'm not much of a book (novel) reader to begin with, so I never understood why so many people get pissed off when a movie like…say…"Eragon," completely drops the ball once Hollywood gets its grubby hands on the material. Or even when people get mad when comic book films like "X-Men," "Batman," "Spider-Man," etc. don't stay faithful to source material (with comic book based films though, I don't think anyone should have any right to complain about not following original material since it 's constantly changing in "comic book land" anyway). Or even if they're just minor qualms such as with the "Lord of the Rings" films. Complaints in that while they're still excellent movies, it was just impossible to fit it all of the depth from the novels into film format (but Peter Jackson sure as heck gave it his all with those extended editions and what not). I feel as if this is where "The Hunger Games" lies in terms of how well it held up to the lofty standards set by the book.
More after the jump…
For the most part, they really did fit in as much as they could. So much of the book is Katniss thinking out loud in her head, so a lot of that is just automatically going to get lost in translation when being adapted to film. But they did a wonderful job at filling the audience in with the important details that Katniss thought out loud in the books. Also using Caesar Flickerman (portrayed by actor Stanley Tucci) to fill us in on details and explanations throughout the Game was a nice touch.  
Another book aspect that simply would not have worked in the film is that in the book, were always with Katniss. There is not one single point that we're with anyone else or not seeing or hearing something that Katniss isn't seeing or hearing. If something happens without Katniss, we're told about it by someone who's telling Katniss. So with that in mind, the film did follow her for the most part, but we were able to appropriately "leave" her narrative in the film by showing us certain aspects of the game makers at work during the Game. This was another nice touch. I had always wondered what was going on behind the scenes in the book, and we finally got to see that in the film. We even got to see Haymitch wheeling and dealing in order to get Katniss and Peeta some sponers (even though I had always imagined him in some sort of control room…but I won't complain). I will say, though, that I thought the emphasis on Seneca wasn't necessary. I know they used him to show us more of President Snow…but we didn't need to see him. In the frist book he was sort of a mysterious force. A man who gave Katniss the creeps, but nothing more. They could've saved more development for him in the sequels. But alas, they chose to fill us in on him via Seneca. To be quite honest with you, Seneca was such a minor character in the book that when he was mentioned near the end of it, I had to try to remind myself who exactly he was, because I had completely forgotten who he was by that point. This was literally the only thing that was drastically different between the book and the film. I guess we should be thankful that was the only thing, because Hollywood could've bastardized it a lot more than that. 

In terms of almost everything else, they nailed it. Absolutely nailed the tone and feel. Sure, conversations weren't as long as they were in the books or meaningful without knowing what Katniss is thinking during these conversations, but the feel and setting of each location in the film…nailed it. The Hunger Game itself literally was what I was imagining in my head when I read the book. The train ride to the Capital also nailed the tone that was depicted in the book. Same for District 12. I can't emphasize enough how much they got it all down pat. I tip m hat to Lionsgate for getting it right. I can only imagine how much more of a budget they'll have for the next two films, which hopefully won't give them the, "George Lucas effect." Which essentially entails using CGI to create scenery and images instead of using it to enhance. 

Also, I hope future installments feature less "shaky cam"….one of my bigger complaints of the film, but one that I understand was necessary to shy away from showing the violence that would otherwise have netted this movie an R rating. But they used it in spots that weren't even necessary (non fighting scenes). So….well….artistic choice I guess. Eh. 

To end the review, here are some bulleted thoughts I have…including some of the minor details that were lost in the translation from book to film, and whether they were good differences or not:
* This is when I first realized I was going to have a hard time nitpicking throughout the film…. In the beginning when Gale and Katniss were in the forest and sharing a piece of bread, there was SUPPOSED to be goat cheese! There was no goat cheese! I immediately started convulsing after seeing no goat cheese.  /// bad exclusion…it would've been so easy to fit it in! GAH!
* The mockingjay pin was supposed to be a gift from the mayor's daughter. They never even introduced her…but like Peeta's father, there really was no point. /// good exclusion
* Peeta's father didn't give cookies to Katniss  before being whisked off to the Capital. Introducing him would've been pointless though. /// good exclusion
* No talk of tongueless Avox's on the train and in the Capital… and less train scenes in general. Katniss did mention getting tongues torn out earlier in the film, though. /// good exclusion
* I kid you not…in the book it literally took Katniss pages upon pages to find water. It was such a big deal that my jaw literally dropped when she found a stream of water almost immediately.  /// good exclusion…even though it PISSED me off! X-(
* Thank you for not making the tracker jacker scene exactly like it was in the book. Thank you thank you thank you. Nasty.  /// good exclusion

* I wish they had showed more reaction from people in the districts watching on their televisions. I know they had Gale react when Katniss kissed Peeta, and they showed the immediate revolt after Rue died…but having more reaction shots would've been a good way to remind us that everything happening in the Game was indeed being broad-casted at all times.
* In the book, Katniss literally drugged Peeta while in the cave so she could go off and get him his medical supplies so he wouldn't stop her. Also, I feel as if the character development between Katniss and Peeta in general was just too rushed overall. Watching their relationship develop in the book was outstandingly believable. I just didn't feel that in the film. /// bad exclusion…less Seneca, more relationship development would've been nice
* Those beasts at the end of the Game were supposed to be fox like creatures that can stand on their hind legs and also had the eyes of the tributes who had died. I'm ok with that one not being the film. It was a surreal moment that didn't fit with the tone of the book at all (this aspect of the book foreshadows why I really disliked the last book of the series…but we'll get to that in a few years. Hopefully the third movie "corrects" what I view as a major mistake in the books…). 
* In the book, Peeta's leg got JACKED. Like, no…really. That thing was hanging from a strand of ligament. After he and Katniss won, he just about died and they had to revive him while Katniss was FLIPPING out. In the film…they just rubbed some creme on and HE WAS PERFECTLY FINE. In the books he even lost the leg and had it replaced with some robotic voodoo. I for one wanted to see that. /// bad exclusion 
* No real back-story of the districts. Or at least not very detailed. In the book I really enjoyed the explanations of the other districts and the detailed account of what it was actually like living in District 12 (IE a complete dump without too much reinforcement compared to other districts). /// unfortunate exclusion
ministryoftruthfilmratings likes this
land-o-geek posted this